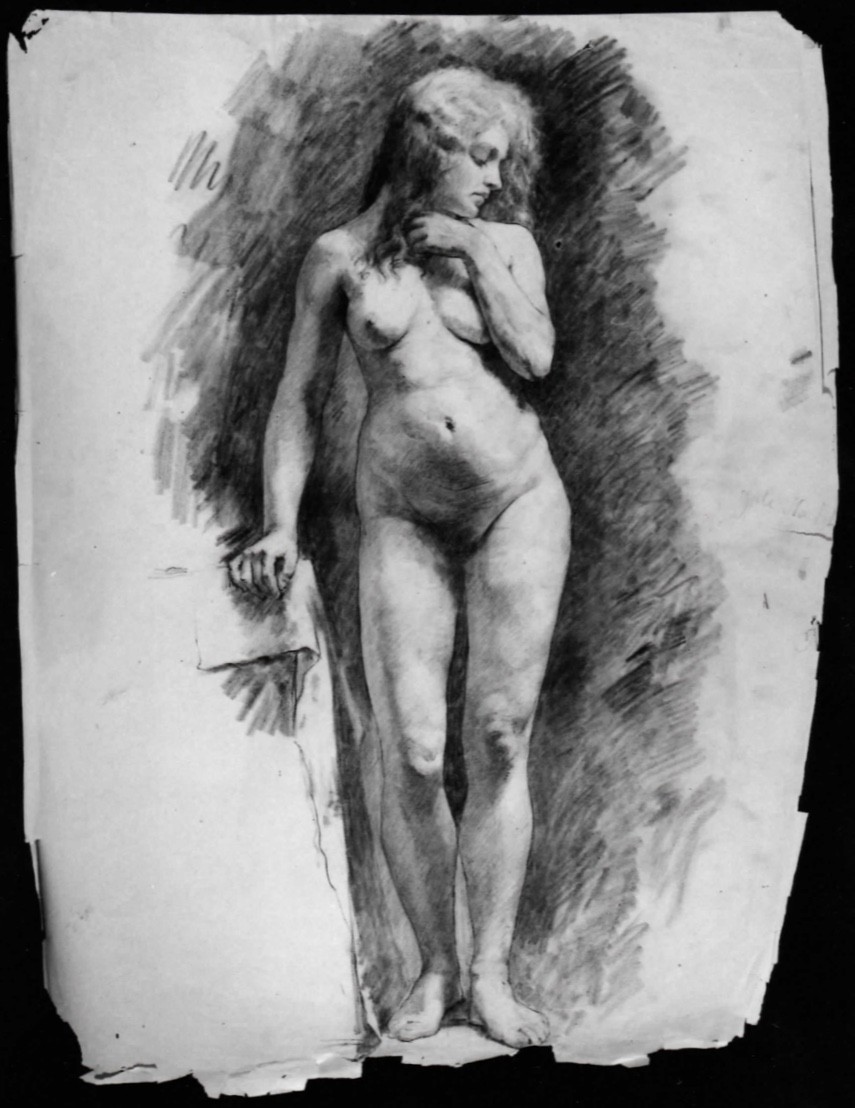 1883? – Academic Drawing: Full Length Standing Study of a Naked Woman, Her Right Hand Resting on her Left Leg, Her Left hand to Her Chin and Covering Her Left Breast.
Description:
Charcoal on very thin brown paper, cracked, chipped and creased around the edges, c. 20.1/2″ x 16″ (c. 52 cm x 41 cm) at its widest. Unsigned.
Location:
Adolfo Muller-Ury Stiftung, Hospental, Switzerland.
Notes
Like all the academic drawings the advanced quality of this drawing compared with those from Muller-Ury's student days in Munich, indicate that it was executed in Italy, probably, like the dated drawings, at the end of 1883.
Notice
: id was called
incorrectly
. Product properties should not be accessed directly. Backtrace: require('wp-blog-header.php'), require_once('wp-includes/template-loader.php'), include('/themes/proud/woocommerce/single-product.php'), wc_get_template_part, load_template, require('/themes/proud/woocommerce/content-single-product.php'), woocommerce_output_related_products, woocommerce_related_products, wc_get_template, include('/themes/proud/woocommerce/single-product/related.php'), WC_Abstract_Legacy_Product->__get, wc_doing_it_wrong Please see
Debugging in WordPress
for more information. (This message was added in version 3.0.) in
/var/www/wp-includes/functions.php
on line
4986
Notice
: id was called
incorrectly
. Product properties should not be accessed directly. Backtrace: require('wp-blog-header.php'), require_once('wp-includes/template-loader.php'), include('/themes/proud/woocommerce/single-product.php'), wc_get_template_part, load_template, require('/themes/proud/woocommerce/content-single-product.php'), woocommerce_output_related_products, woocommerce_related_products, wc_get_template, include('/themes/proud/woocommerce/single-product/related.php'), WC_Abstract_Legacy_Product->__get, wc_doing_it_wrong Please see
Debugging in WordPress
for more information. (This message was added in version 3.0.) in
/var/www/wp-includes/functions.php
on line
4986