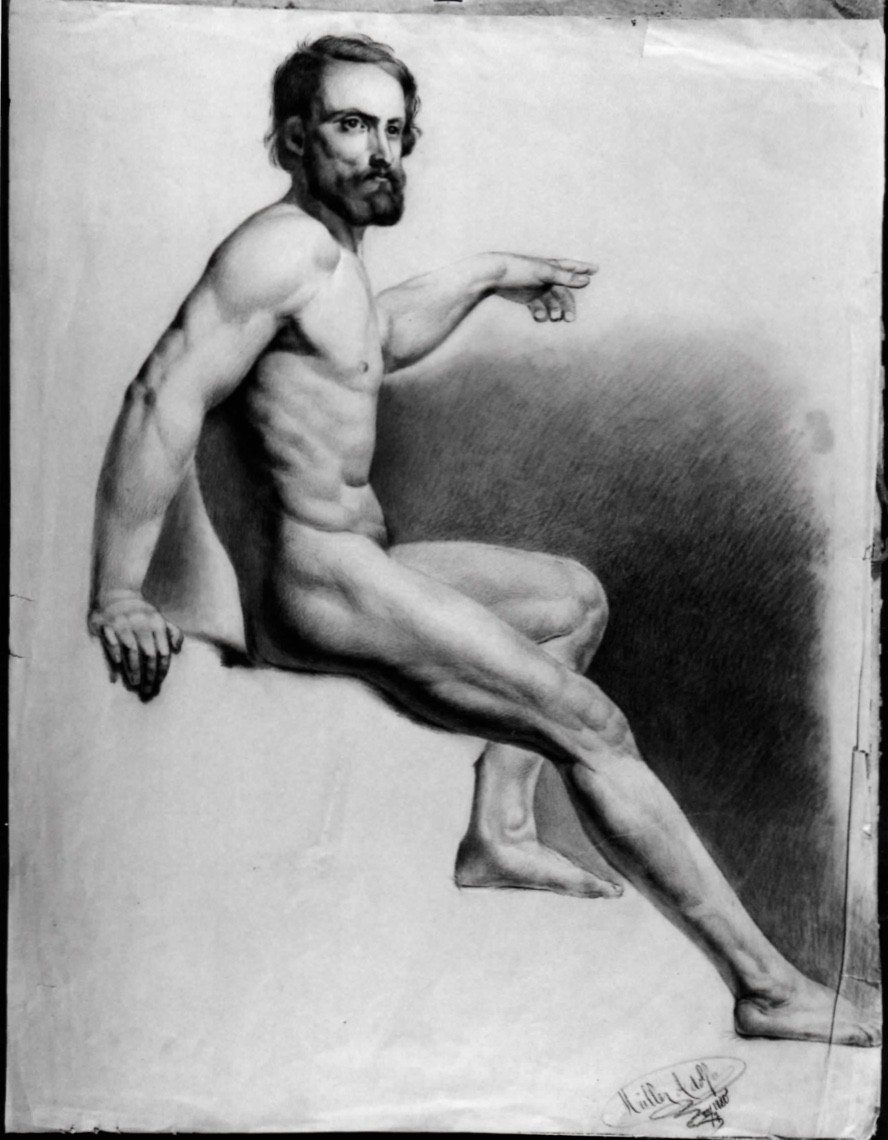 1880 – Academic Drawing: Study of a Seated Bearded Naked Male Facing Right, Left Hand Raised.
Description:
Charcoal on blue paper, 22.7/8″ x 17.7/8″ (58.3 cm x 45.6 cm), signed and dated lower right "Müller Adolfo vii.7.1880", an L-shaped tear mended at back below the seat of the man, creased lower right and through foot; damaged edges and tears.
Location:
Adolfo Muller-Ury Stiftung, Hospental, Switzerland.
Notes
This is the only drawing surviving from Muller-Ury's study in Stans with Deschwanden which is of an academic nature. It's difficult to reconcile the date of the sheet with the overly religious atmosphere in Deschwanden's studio; the date of July 1880 suggests that the young artist might have been on holiday in Italy and taken advantage of the occasional availability of naked models.
Notice
: id was called
incorrectly
. Product properties should not be accessed directly. Backtrace: require('wp-blog-header.php'), require_once('wp-includes/template-loader.php'), include('/themes/proud/woocommerce/single-product.php'), wc_get_template_part, load_template, require('/themes/proud/woocommerce/content-single-product.php'), woocommerce_output_related_products, woocommerce_related_products, wc_get_template, include('/themes/proud/woocommerce/single-product/related.php'), WC_Abstract_Legacy_Product->__get, wc_doing_it_wrong Please see
Debugging in WordPress
for more information. (This message was added in version 3.0.) in
/var/www/wp-includes/functions.php
on line
4986
Notice
: id was called
incorrectly
. Product properties should not be accessed directly. Backtrace: require('wp-blog-header.php'), require_once('wp-includes/template-loader.php'), include('/themes/proud/woocommerce/single-product.php'), wc_get_template_part, load_template, require('/themes/proud/woocommerce/content-single-product.php'), woocommerce_output_related_products, woocommerce_related_products, wc_get_template, include('/themes/proud/woocommerce/single-product/related.php'), WC_Abstract_Legacy_Product->__get, wc_doing_it_wrong Please see
Debugging in WordPress
for more information. (This message was added in version 3.0.) in
/var/www/wp-includes/functions.php
on line
4986